What's In My Bag
October 21, 2019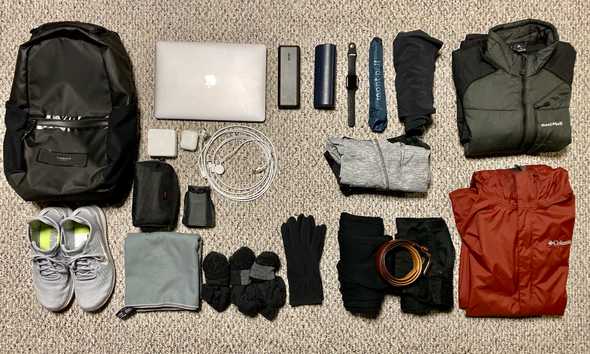 Backpack
Timbuk2 Shadow (Everyday)
A 16L backpack that is lightweight (14.72oz), professional looking and water resistant. Used for my onebag travel setup.
ULA CDT (Backpacking)
24oz pack that I got for backpacking trips. Features 50L of available space (including side pockets and outer mesh pocket). I added shoulder pockets from Mountain Laurel Designs to carry water/phone up front. Fits everything I need and is very comfortable. I customized it with a rolltop design (instead of cinch top) and removed the hipbelts (they seemed too bulky for my liking).
Technology
Macbook Pro 13" 2019
Mainly used for coding, web surfing, and light video/photo editing.
iPhone 11 Pro
Great camera. Drawing a lot of inspiration from Kraig Adams as he recently got this phone as well and was teasing at an iPhone only hiking film.
Apple Watch Series 4
I use this 3rd Party Band from Amazon. Lighter, cheaper, more comfortable.
Airpods
Highly recommend. I listen to music and Audiobooks primarily.
Anker Powercore Speed 20,100mAh
I'll use my Macbook Pro charger to charge this since it is USB-C and will just use the power bank as my main source of power for iPhone, Apple Watch, and Airpods.
Apple 61W USB-C Adapter
USB-C to USB-C Cable (2m)
Clothing
Uniqlo DRY-EX Crew Neck T-Shirt
Base layer shirt that wicks away sweat and drys fairly quickly. I carry two of these shirts and two Uniqlo Airism T-Shirts in black.
Patagonia Capilene Daily Hoodie
A thin secondary base layer made of 100% polyester. Protects against sun and provides a little bit of warmth. One of my favorite garments I own.
Uniqlo Selvedge Slim Fit Jeans
Comfortable, everyday black jeans. Got the selvedge denim in hopes of making the seam last a little longer. Bonus: free alterations in store and online.
Lululemon Pacebreaker Shorts
Standard pair of active shorts. Used for hiking as well. If it's cold, I'll throw on a pair of long underwear underneath and if it's windy out then I throw on these wind pants that are ultralight. Way cheaper than Montbell Tachyon pants but heavier.
Uniqlo Airism Boxer Briefs
Light and comfortable.
Darn Tough 1/4 Socks
Great everyday socks. I don't like to hike in these since my feet sweat a lot. I tend to prefer thin, nylon dress socks like these Gold Toe Metropolitans. They can act as a liner and my feet breathe much more comfortable with these and dry super quick.
Montbell UL Thermawrap
Newest addition to my gear list and I am a big fan of it so far. Super light and relatively warm when active. Acts as a fleece alternative. I used to own a Uniqlo Ultralight Down Jacket but opted for synthetic instead so I don't have to worry about it getting wet. Doesn't compress as small as down but oh well.
Columbia Omni Tech Rain Jacket
Just a rain jacket that i've had throughout the years. Not the lightest but keeps rain off pretty well and cuts wind away.
Nike Free RN 2018
Montbell Chameece Fleece Gloves
Lightweight fleece gloves.
Merino Wool Ultralight Buff
Multifunctional. Big fan of it.
Miscellaneous
Montbell Travel Umbrella
Only weighs 3oz. Not great for high winds/heavy rain but that's to be expected with most umbrellas of this size.
Toiletries
Includes tooth brush, toothpaste, nail clipper, tweezers, bandaids, razor, face wipes, and Advil. All in a Tumi bag that was included on a Delta flight.
Rainleaf Microfiber Towel (XL)
Big enough to use as a shower towel and dries quickly.
Matador FlatPak Soap Bar Case
Built from Welded Cordura and dries out soap bar inside while being leak proof and clean.
Outdoor Gear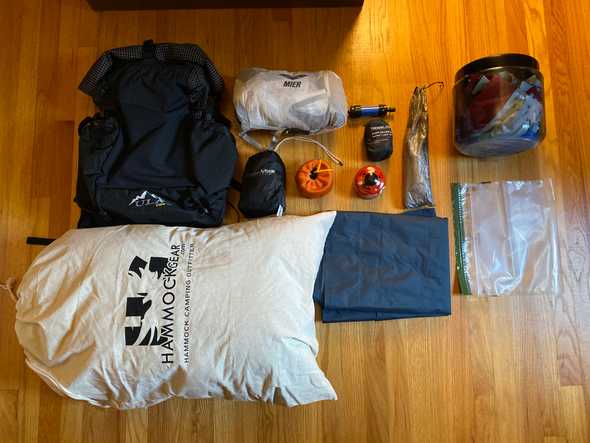 My baseweight is 13lb, including the BearVault 450 which is 2lb (no food). Not technically ultralight but getting there.
---